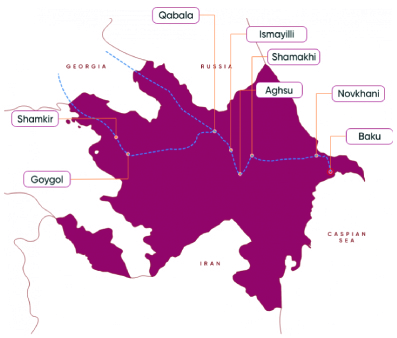 Azerbaijan is very proudly a secular, multi-cultural country, a place of passionate Caucasian spirit, and one of the cradles of world viticulture. The capital buzzes with bars. Fine wines are very much part of many an Azerbaijani dining experience. And the vineyards of the Caucasus foothills produce a bounty of grapes that soak up the rich sunshine, producing vintages that are likely to surprise and delight unprepared oenologists. Azerbaijan's wine industry has been expanding rapidly over the last
decade with extensive investments in top quality technology, and a playful experimentation with both internationally known grape varieties and many local alternatives. The result is an original and ever improving gamut of fine wines. Come,
taste and surprise yourself.
---
Wine Tours in Azerbaijan
---
"Walk and Wine – Way of Sufi" by Bakusighseeing.com

Baku Sightseeing invites you to have a walk within the walls of medieval Baku, with your guide sharing stories and legends of this fascinating place, familiarizing you with magnificent Sufi culture and its mystical philosophy. We will take you to a fascinating journey that starts with story-telling and ends with tasting a rich variety of fine local grape wines and the pearl of Azeri winemaking – the pomegranate wine. All that's left to do is to accept our invitation and enjoy!

From: 19 USD
Duration: 1 day
Tour, Wine
Ultimate Culinary & Wine tour Azerbaijan by Namisi's Wine Tours

If you want to taste best national dishes from Azerbaijani cuisine and taste wines
from the best wineries of the country, then you definitely need to join our tour. This
5-day package covers your transport, accommodation, all lunch and dinner, wine
tastings with snacks. All you need to do is book this trip and relax the rest we will take
care. You will never forget this amazing journey to the wine world.

From: 450 USD
Duration: 5 days
Transport, Accommodation, Food, Wine
Eno Gastro Tour to Gabala by Baku Sightseeing

What comes to your mind first when someone says 'a perfect duo'? We believe Wine and Food combo only gives way to Ying&Yang in this regard. Baku Sightseeing invites you to feel the harmony of this tandem and enjoy the most delightful tastes and smells of Gabala traditional meals and wines.

From: 53 USD
Duration: 1 day
Professional Guide Service
Comfortable air-conditioned transportation
Food tasting at a picturesque restaurant
Wine tasting
Gabala sightseeing tour
Travel with a Glass of Wine by GEO Travel

During this unforgettable 5-day tour you will visit 4 wineries located in different parts of Azerbaijan. You will see how Azerbaijani traditions of viticulture and winemaking intertwine with modern European technologies, taste local wines and enjoy mesmerizing nature surrounding the vineyards. Tour Includes:

All transfers
Accommodation based on double/twin room sharing, breakfasts included
Sightseeing tour program with local English-speaking guides
Entrance tickets to sights as per itinerary
Lunches and dinners as per itinerary
Wine tasting with snacks
Ethno master class & wine tasting by Nasimi's Wine Tours

If you want to indulge yourself in local culture of Azerbaijan, travel back in time, experience day-to-day activities of local people and try all varieties of local Azerbaijani wines with delicious snacks and local meals without travelling long distance, then this experience is for you.

Transportation Guide services
Entrance to Qala Archaeological and Ethnographic Museum Complex
4 master classes (cooking, carpet weaving, pottery, blacksmith)
Wine tasting – 6 types of wines
Snacks
Lunch